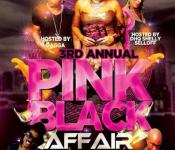 Date:
March 16, 2013, 10:00 pm
Venue:
The Beach aka Trisiom
152 South Plaza trail
Virginia Beach , VA
Description
PINK & BLACK IS BACK AGAIN FOR THE 3RD YEAR AN EVERY YEAR IT GETS BETTER... THIS SAT. MARCH 16TH INSIDE THE BEACH AKA (TRISOM)152.S PLAZA TRL.VA BEACH 23452..DOORS OPEN @10PM..LADIES COME OUT LOOKING CLASSY AND MEN ROLL OUT LOOKING FLOSSY....
Map
Javascript is required to view this map.