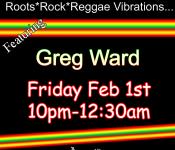 Date:
February 1, 2013, 10:00 pm
-
February 2, 2013, 12:30 am
Venue:
Fardowners
5773 The Square
Crozet , VA
Description
The Rasta Alchemist performing live conscious reggae at Fardowners, a fantastic venue in Crozet, VA. Classic reggae hits, originals, and other familiar hits in the reggae vibe, this is going to be a show to remember. Great venue, amazing staff. 21 w/ID. No Cover. Showtime 10pm.
Map
Javascript is required to view this map.